Our Plenary Speakers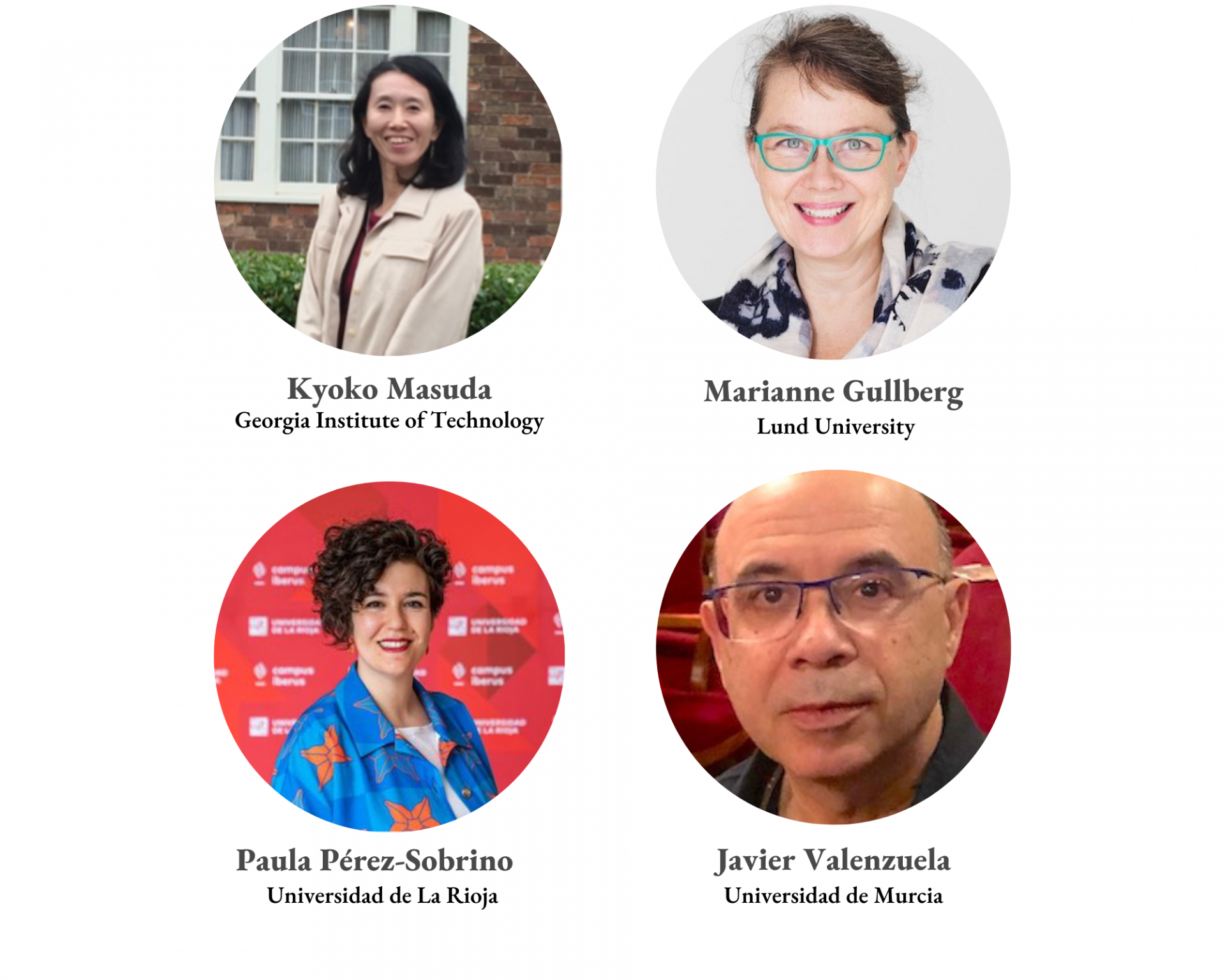 ⬇️ Open here for more information ⬇️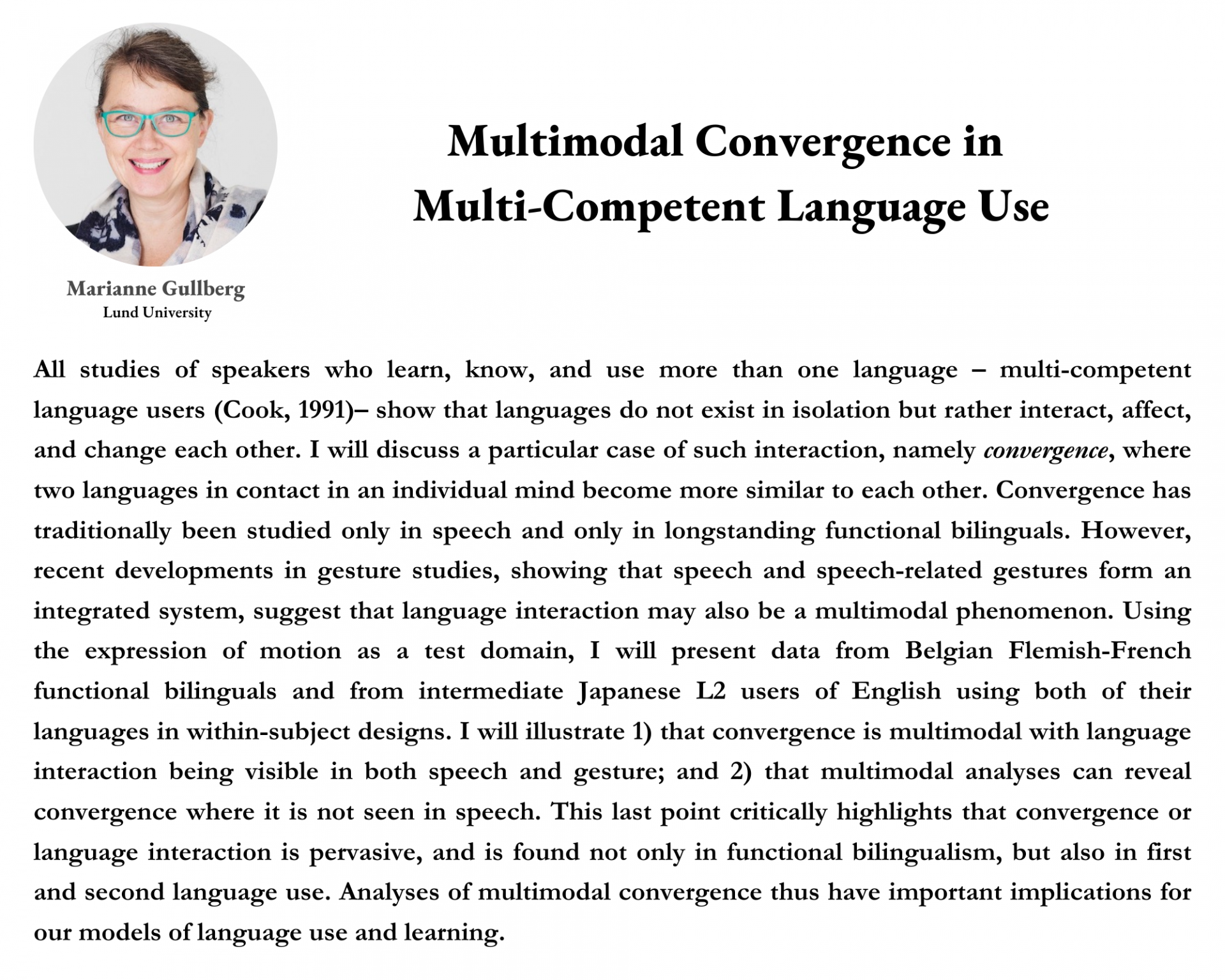 ✨ About Prof. Gullberg
Marianne Gullberg is professor of Psycholinguistics at Lund University, Sweden. Her work examines how we learn and process language in real time, how multilinguals manage their languages, and how the relationship between speech and gestures works. She focuses on multimodal information processing of meaning and discourse. Previously, she co-headed the group The Dynamics of Multilingual Processing at the Max Planck Institute for Psycholinguistics in the Netherlands, and co-founded the Nijmegen Gesture Centre, the first of its kind. She currently heads the group Language Acquisition, Multilingualism and Teaching (LAMiNATE) in Lund and heads two research infrastructures: Lund University Humanities Lab, and Huminfra at the Swedish national level. Among her additional duties she serves as editor of three international journals. She was Vice-president of the European Second Language Association 2003-2007 and received its Distinguished Scholar Award in 2019. She is also the current President of the International Society for Gesture Studies.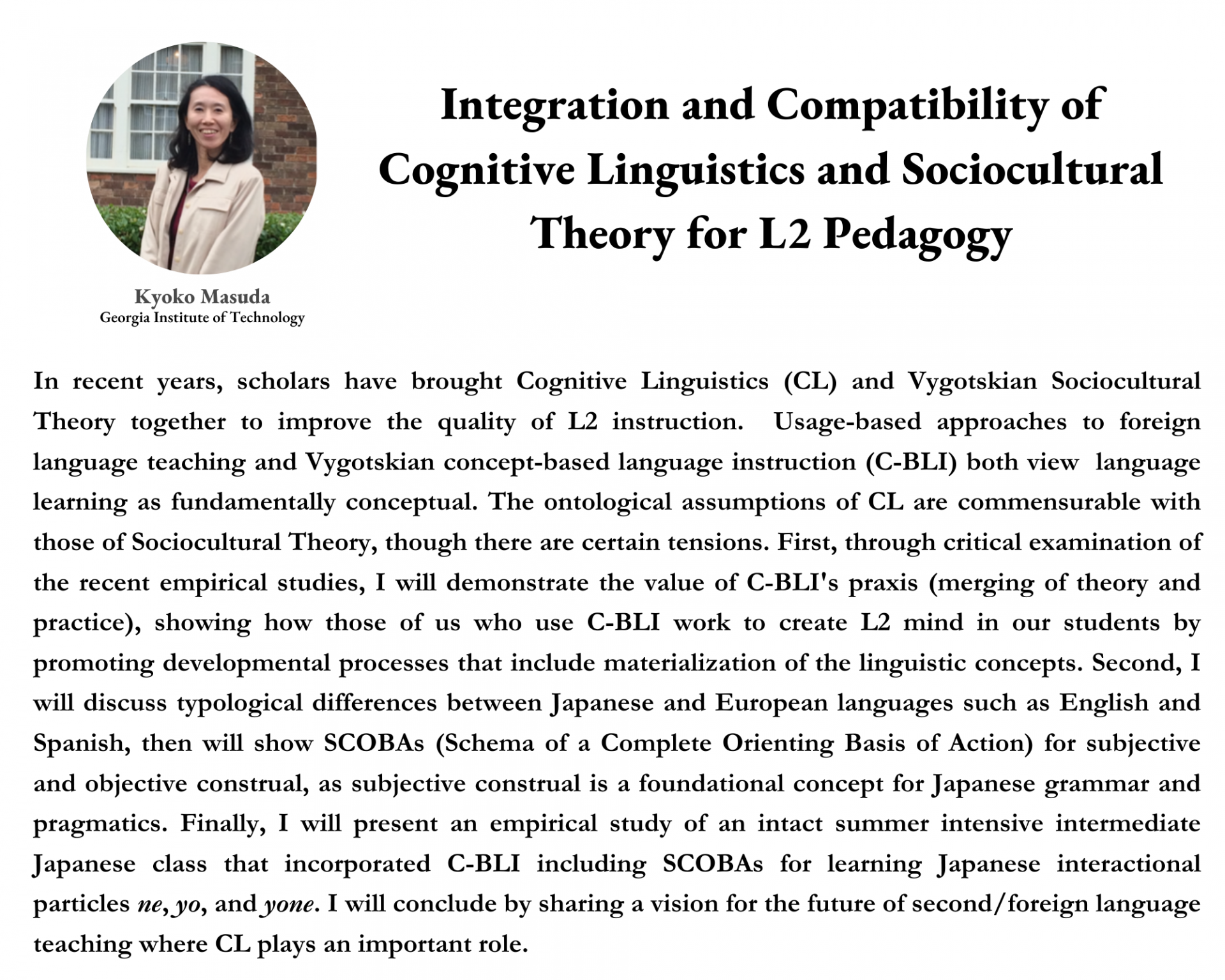 ✨ About Prof. Masuda
Kyoko Masuda is an Associate Professor at the School of Modern Languages at the Georgia Institute of Technology. Her research interests lie in Cognitive Linguistics (usage-based approach), Sociocultural theories, Second Language Acquisition, and Japanese discourse studies. Her research goal is to explain the second language acquisition process by utilizing a discourse database and adopting usage-based models as supportive evidence for claims about acquisition and interaction processes. She has published numerous articles and book chapters in her field. She co-edited Cognitive Linguistics and Sociocultural Theory: Applications to Foreign and Second Language Teaching (De Gruyter Mouton, 2015) and solo-edited Cognitive Linguistics and Japanese Pedagogy: A Usage-based Approach to Language Learning and Instruction (De Gruyter Mouton, 2018). Currently, as a lead author, she is working on a book project titled Promoting Second Language Development through Concepts: Usage-based Linguistics and Sociocultural Theory in Teaching Japanese (Routledge).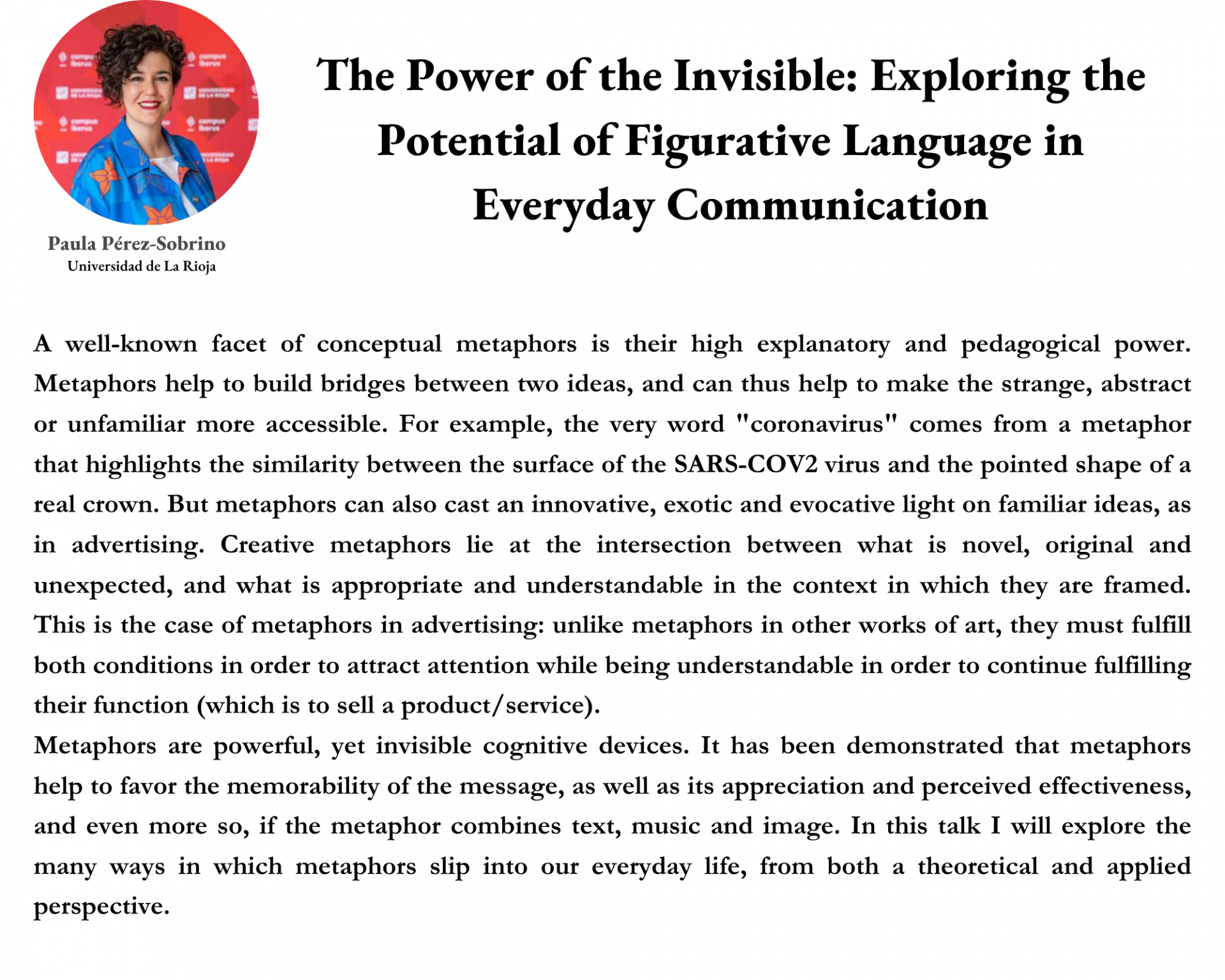 ✨ About Prof. Pérez-Sobrino 
Paula Pérez Sobrino is Associate Professor in Modern Languages at the University of La Rioja. Her work deals with the ways in which metaphor helps or hinders cross-cultural communication. She also enjoys looking at figurative language at the intersection of language, image, and sound, and more generally, how people make sense of everyday creativity. She has published extensively on multimodal figuration from both a theoretical and empirical point of view, including three monographs to date: Multimodal Metaphor and Metonymy in Advertising (2017, John Benjamins), Unpacking Creativity: The Power of Figurative Communication in Advertising (together with Jeannette Littlemore and Samantha Ford, 2021, Cambridge University Press), and Metaphor, Metonymy, the Body and the Environment: An Exploration of the Factors That Shape Emotion-Colour Associations and their Variation across Cultures (together with Jeannette Littlemore, Marianna Bolognesi, Nina Julich Warpakowski and Danny Leung, 2023, Cambridge UP). For more information, visit www.paulapsobrino.com.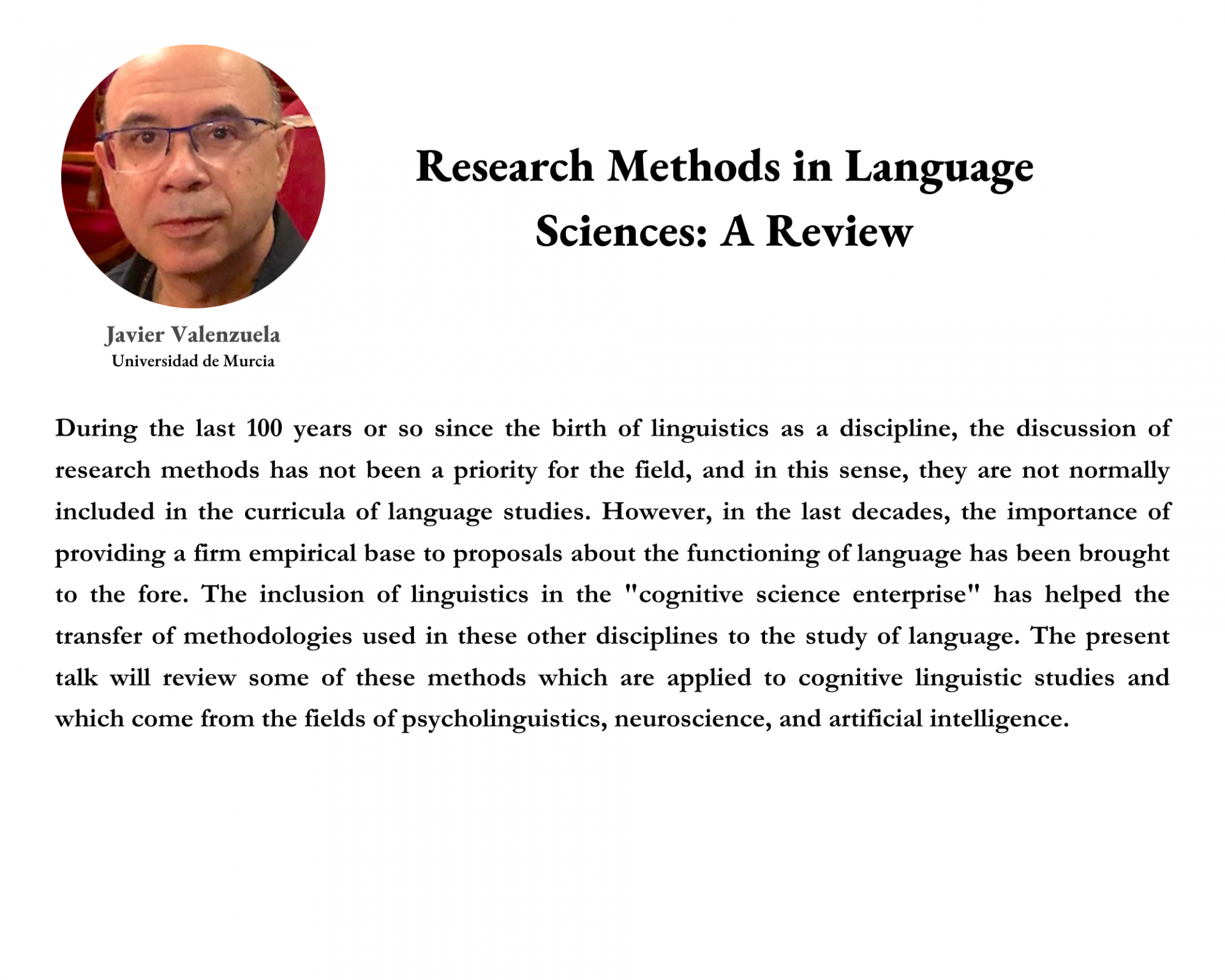 ✨ About Prof. Valenzuela
Dr Javier Valenzuela Manzanares is a professor at the Department of English Philology at the University of Murcia, where he teaches semantics and cognitive linguistics and leads the research group "Language, Cognition and Translation" (E020-06). His research is focused on empirical validations of cognitive linguistics, using psycholinguistic methods and corpus studies. He is especially interested in the sensorimotor bases of abstract thought and in the multimodal aspects of communication. As a member of the international consortium Red Hen Lab, dedicated to the study of multimodal communication, he is involved in the development of the theory known as Multimodal Construction Grammar. He has published extensively in journals such as Cognitive Science, Frontiers in Human Neuroscience, Frontiers in Psychology, PlosOne, Semiotica, Language and Cognition, Metaphor and Symbol, Journal of Pragmatics, Cognitive Linguistics, Language Sciences, Annual Review of Cognitive Linguistics or Languages in Contrast, and has co-edited a number of books on cognitive linguistics and written a coursebook on semantics with Cambridge University Press. He has participated in more than 16 funded research projects, including European ones, on different multidisciplinary aspects of language, involving semantics, cognition, robotic communication, metaphor and emotion. He is a member of the editorial board of several journals, including Cognitive Linguistics, and served as President of the Spanish Association of Cognitive Linguistics (AELCO/SCOLA) during the period 2012-2016.